Quality firewood delivered FREE in Swindon
PLEASE NOTE:
Due to our annual yard maintenance closure, we will not be delivering until the week commencing 01 AUGUST.

Orders still welcome.

Many thanks.

We apologise for any inconvenience this may cause.
A warm welcome,
All our hardwood timber comes from local managed woodlands, consisting of mainly ash, beech, hazel, and sycamore. We split & store the logs in barns to allow air to circulate and enhance the seasoning process ensuring a high quality product.
Using firewood for heat and fuel is better for our environment as burning logs is carbon neutral because as a tree grows it takes in CO2 which is then released as it is either burnt or rots down naturally.
We sell our quality firewood by the cubic metre.
PLEASE ORDER ONLINE BELOW.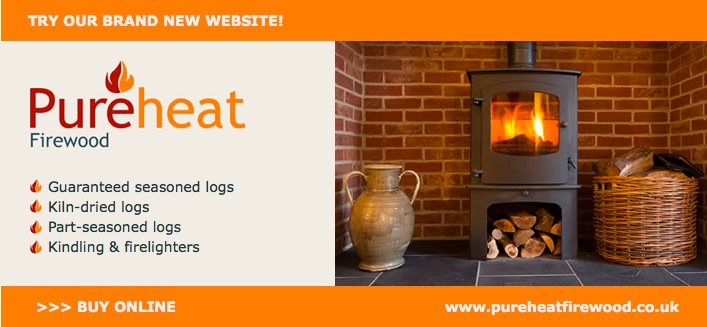 CUSTOMER NOTICE
SH Forestry have now launched a brand new website, where we will be selling not only our seasoned logs available below
but also kiln-dried logs, kindling and more.
PLEASE CLICK ON THE BANNER ABOVE TO ORDER VIA OUR NEW WEBSITE - PUREHEAT FIREWOOD.
CLICK HERE FOR DELIVERY AREA >
Buy Online Below
You can now order logs for FREE delivery via PayPal. All credit cards except American Express are accepted.
Hardwood
Mixed Wood
Half hardwood, half softwood (log burner mix)
Pure softwood
Logburners only
Kindling
Free delivery with a bulk order